Practical Feldenkrais – the Challenge! (Washington DC)
*Moti Nativ*
Practical Feldenkrais – the Challenge!
A 2 Day Workshop
 WHEN: April 28 & 29, 2018, 10am -5pm
 Where:  Crowne Plaza,  Crystal City/Washington, DC Airport, shuttle available
 This workshop is for ANYONE wishing to bring out the best in themselves!!
Join us for a Feldenkrais® weekend movement-lab and bring out the very best in yourself! Based on Dr. Moshe Feldenkrais' ideas, this workshop is designed to actually increase your physical as well as your mental ability and stability.2 and a half full days of immersion into basics and advanced skills, with Awareness Through Movement® lessons and original practical implementations – derived from Moshe Feldenkrais' martial arts ideas and his favorite self-defense techniques.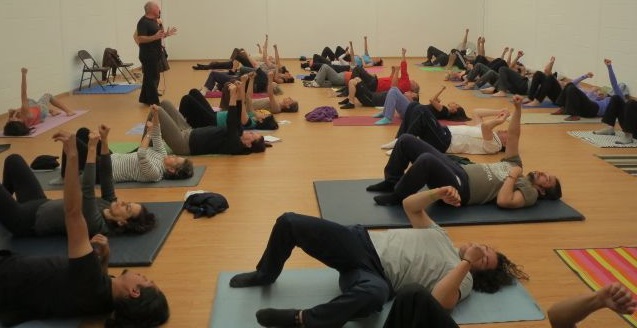 Meaningful and relevant but unfamiliar movements, practical but challenging actions, experienced in a dynamic but safe approach.In an interactive and lifelike context we will elicit the rapid arousal of more efficient movement patterns, using Awareness Through Movement® lessons.We'll explore practical use of gravity, momentum, timing and direction of movement to develop abilities such as the dynamic management of weight and balance, balance and counterbalance, and effective interaction with the environment and other people.This workshop will be engaging, fulfilling and FUN!
"My life-long research into movement brings me deeper and deeper to the roots of Dr. Moshe Feldenkrais' work. I reveal Moshe Feldenkrais' development as a martial artist and I show the links between this process and the development of the Feldenkrais Method®.
In this weekend workshop we'll follow - AND TURN INTO PRACTICE - the principles of the Feldenkrais Method® as Moshe wrote about (when the "Method" did not yet formally exist), explaining to Judokas the principles of efficient and effortless action.Those same principles are now being supported by modern research into the neuroscientific discoveries of movement as the language of the brain."- Moti Nativ
---
Suggested Fees (USD):     
 
Full Workshop
One Day
 
1 month before
Regular
 
FGNA Members
$200
235
125
Non-Members (FGNA)
235
250
145
Mordehai (Moti) Nativ, a retired Colonel from the Israeli Defense Force, is a certified Feldenkrais Practitioner and a Shihan in the Bujinkan school of Budo Taijutsu. He holds a black belt in Judo and is a certified Krav Maga instructor. He served four years as the president of the Israeli Feldenkrais Guild.